New Preview in GamesMaster (UK)
Posted by adamcs at 12:29. Site: . Category: General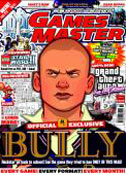 GamesMaster, on sale 1st September
We reported last month that UK magazine GamesMaster would feature a preview of Vice City Stories in their upcoming issue, and today we managed to learn of it's contents.
There are no new screenshots - and a majortiy of the details we already know - but there are a few interesting bits that are worth mentioning:
One of the radio songs is by Blondie (zomg) but the final soundtrack has yet to be confirmed.
Because VCS is set 2 years prior to VC, there are more poor areas in the city and some landmarks you know of are yet to be built. Places like Ocean Drive, Downtown and the Golf Course are still there - they just look a bit different.
GM loves: it's double the size of Liberty City Stories with more vehicles, missions and music.
GM hates: the controls are still likely to be more fiddley than playing on PS2.
Some familiar faces will return, but most of the characters are new to the series.
"One of Vice City Stories' biggest selling points is going to be how easy it is to go from land to water to air travel. Missions are much longer than they were in LCS - instead of doing a bit of a mission, watching a cut-scene and then doing a bit more, everything's more transitional."
This issue is only available to subscribers at the moment, but be sure to collect a copy on 1st September when it goes on sale for £3.49 - it's well worth the read.
Thanks to Ulitmate Taz (from NeoSeeker) for providing this information.